Public Lecture by Sundeep Waslekar
"Gandhi, Einstein and the Prospects of Peace in the 21st Century"
Date: Wednesday,2nd October 2019
Time: 6pm
Harris Manchester College, Mansfield Road, Oxford OX1 3TD
October 2nd this year will be the 150th Anniversary of the birth of Gandhi and we are delighted that Sundeep will be bringing an Indian perspective of one of the world's most remarkable men, his fellow countryman, Mohandas Karamchand (Mahatma) Gandhi
Sundeep has been for many years a thought leader on conflict resolution and our global future, not only in his own home country of India, but across the globe. His advice and thinking are sought out by leading academics, statesmen and women, business people and community leaders throughout the world. He is an accomplished author of a number of significant books and reports and it is an honour to have him help us recognise this significant anniversary with a public lecture.
Sundeep Waslekar graduated with a Master of Commerce degree from the University of Mumbai and was then awarded a full scholarship to read Philosophy, Politics and Economics at St. John's College, Oxford. He graduated in 1983. In December 2011 a Doctor of Literature degree (Honoris Causa) was conferred on him at Symbiosis International University by the President of India.
This public lecture is a part of CRIC Annual Conference 2019: The Doctrine of Non-violent Resistance in an Age of Hybrid Warfare.
This is a free lecture, but please register at: https://getinvited.to/cric/swg/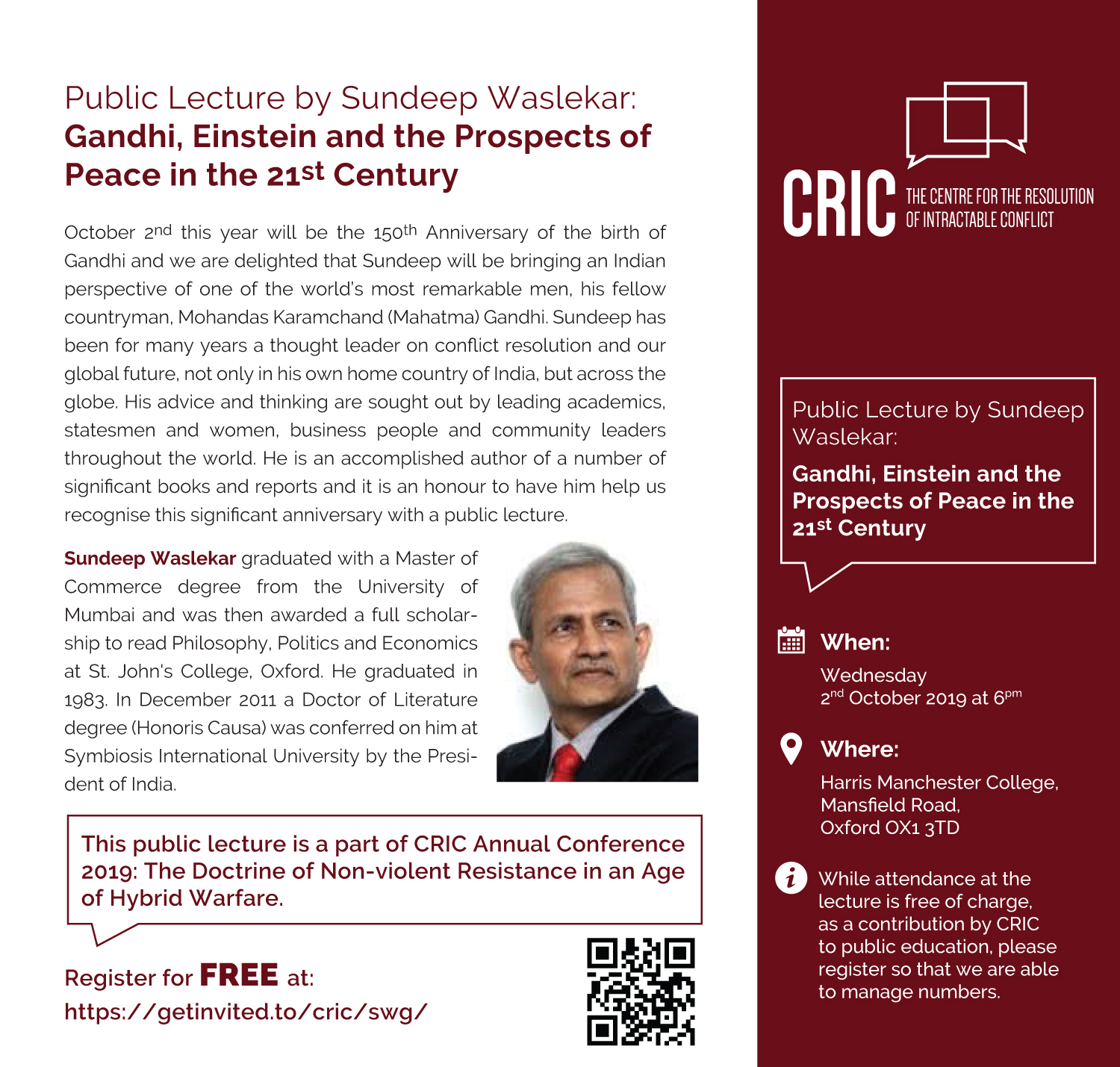 October 2 @ 18:00
18:00
Harris Manchester College Mansfield Road Oxford OX1 3TD