Briefing by Professor Dr Hans-Joachim Giessmann: The work of the Berghof Foundation
14 June 2018, 9.30 am – 1.00 pm
Room 115, Fielden House, House of Lords, London SW1A 0PW
(invitation only)
Briefing by Professor Dr Hans-Joachim Giessmann
The work of the Berghof Foundation

The Berghof Foundation (https://www.berghof-foundation.org/) supports conflict stakeholders and actors in their efforts to achieve sustainable peace through peacebuilding and conflict transformation. Before coming to Berghof as Executive Director in 2008 Hans Joachim Giessmann was the deputy director of the Institute for Peace Research and Security Policy at the University of Hamburg, where he is still affiliated as a professor with the Faculty for Social Science.
From 2009 until 2014 he was a member of the Global Agenda Council on "Terrorism" at the World Economic Forum and chair in 2011/2012. He is also a member of the European Expert Network on Terrorism Issues (EENeT) and a member of Board of the German Atlantic Association. He has served since 2009 as a member of the Advisory Board for Civilian Crisis Prevention at the German Federal Foreign Office. An experienced author, he has published more than 35 books and numerous articles translated into more than ten languages. Most recently he published "Embedded Peace: Infrastructures for Peace" (UNDP/DEZA/Berghof Foundation: New York, 2016), and was the lead author of "Curbing Violence. Development, Application, and the Sustaining of National Capacities for Conflict Prevention" for the World Bank Flagship Study on Conflict Prevention (2017).
In 1989/1990, prior to German unification, Hans-Joachim participated in the Roundtable talks as an expert on behalf of the civil society movement New Forum on conversion, disarmament and security sector reform. He graduated Dipl.Phil. in 1978 from Humboldt University (Berlin) and holds doctorates in philosophy (1981) and political science (1987). He has held guest professorships in universities in New York, Wroclaw and Shanghai and visiting fellowships at EWI in New York and EU-ISS in Paris.
More information & register at: www.getinvited.to/cric/berghof/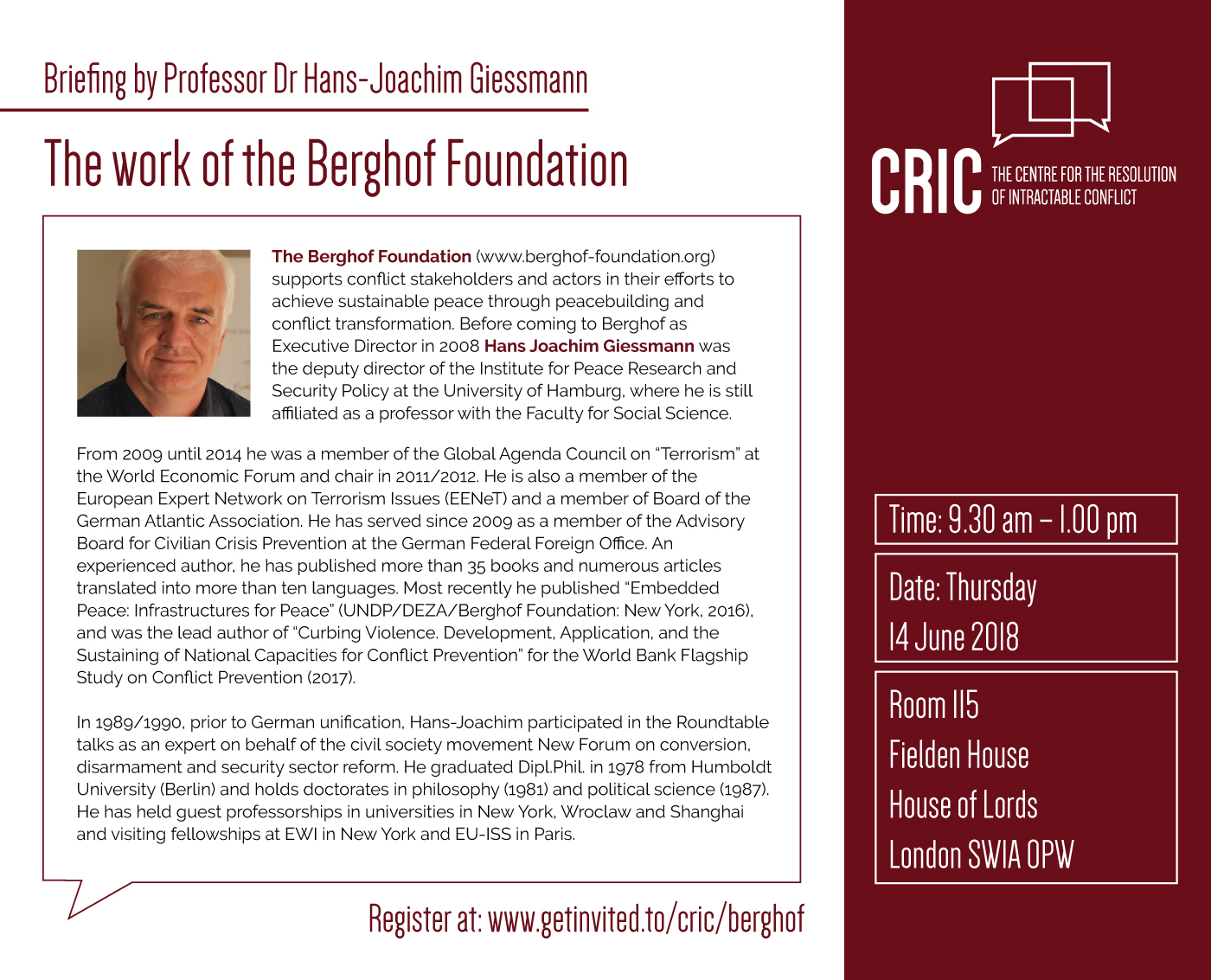 June 14 @ 09:30
09:30
Room 115 Fielden House House of Lords London SW1A 0PW